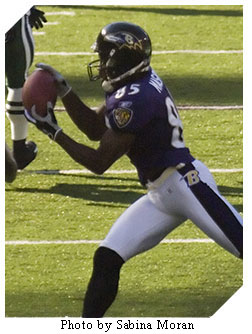 Meeting Update
7:30 pm, 2nd Thursday of every month at OC 360, at the top of the Fenwick Inn, 138th Street and Coastal Highway, Ocean City MD.
---
Membership - Over 170 members.
The one of the LARGEST Ravens Roost in the Council. Do not forget your Ravens Roost #44 membership dues. See Susan White or send your $30 check payable to Ravens Roost #44.
Send the check to:
Susan White
Membership Chairperson
32612 Falling Point Road
Dagsboro, DE 19939
---
Ravens Home Game Tailgate Bus
The Bus leaves 5-1/2 hours before the game. The bus is sold out but single game seats may be available @ $45 per seat. Contact Mike Grimes for availability.
Please be responsible on the bus. Pick up your trash, do not smoke, and have fun. Let us all help Mike have fun and relax while we enjoy our trips to the game.