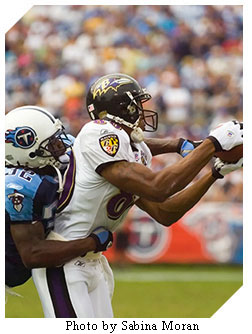 The Corrals went up to No. 37 right before the NFL Colts slipped out at night. When the CFL arrived they were still called Colts Corrals and added No. 38 ( Downtown Baltimore) and No. 39 (Harford County). For a very brief period, a vote was taken to call themselves Stallions Corrals in mid '95. After the announcement of the Browns move (and with no name yet chosen) they reverted back to Colts Corrals in early '96. They then added Colts Corral No. 40 which was a group that spun off of Corral No. 15. In June of 1996 they changed their name to Ravens Roosts. Most Roost's share the same number they had as a Corral. All numbers after 40 are origanlly Ravens Roosts.
Ravens Roost #44 was formed in 1998 by Buddy Miller, former Colts Corral member and current Ocean City legend. Buddy needed just 25 members to form a Roost and recruited all around town. From businesses to bars, he set the wheels in motion for this wonderful organization that we are fortunate to be a part of today.
We've has a few places to call home since that Spring of 1998; from the very first meeting at the OC Elks Lodge, on to the Northside Grille @ the Georgia Belle Hotel, then to Charlie's Bayside and now to our current home at The Greene Turtle, the place we hope will be our home for a long time to come.
From the original 25 members we still have a few "Charter Members" among us: Buddy Miller, Billy & Gina Wilkins, Mike & Sharon Donnelly, Pete & Barbara Forrest, Wayne & Kelly Wilhelm, Gerry Vendetti, Ken and Sandy Taras.
We were incorporated in March of 1998. We received out IRS non profit 501(c)7 status in November 1999, formally acknowledging us as a "Social Club formed for the pleasure of it's members to share a mutual interest in the promotion of professional football".
Special thanks to Sandy Taras. More to come...